2017 IN REVIEW
2017, I'm not sad to see you go. It's been quite the year. As I do every year, I like to reflect on the outgoing year. I've already posted my favorite music from 2017 and now it's time to reflect on other highlights from 2017. I spent an hour or so looking back at pictures from the year when I realized photos would be a great way to tell the story that was my 2017. So without further adieu, below are a few personal highlights from 2017.
Celebrating our TENTH anniversary! This beautiful, strong, funny, intelligent, witty, and independent woman is the center of my universe. I owe her big time for being patient with me, loving me unconditionally, and for always being by my side to celebrate the highs and pick me up from the lows.
Taking a group mental health day and riding to Artist Point at Mt. Baker. Half the group had never ridden Baker before that day. It was the first day of 2017 that I actually took a day for myself and it couldn't have been better.
The girl and I on a spring afternoon in search of puddles to jump in. I aspire to make great photographs but really, I just take pictures and a few turn out okay. I really like this one. It just captures the girl perfectly.
A handmade tie. I picked the fabric/pattern and the tie width and then it was made in front of me in about half an hour. Whenever I wear this tie, I'll always remember this experience.
Families that sled together stay together. Also, the girl's first time sledding. She LOVED it. Hearing her giggle and laugh was special.
I saw you could have Blitz come and give your special person a surprise valentine and well, it sounded like a silly thing to do. It was. But oh so worth it. Especially when Blitz visited the girl's classroom. Cue kids going crazy. Well worth every cent.
The girl. Coming home from work and having the girl meet me at the door and ask if I wanted to go for a bike ride with her made my day...every time.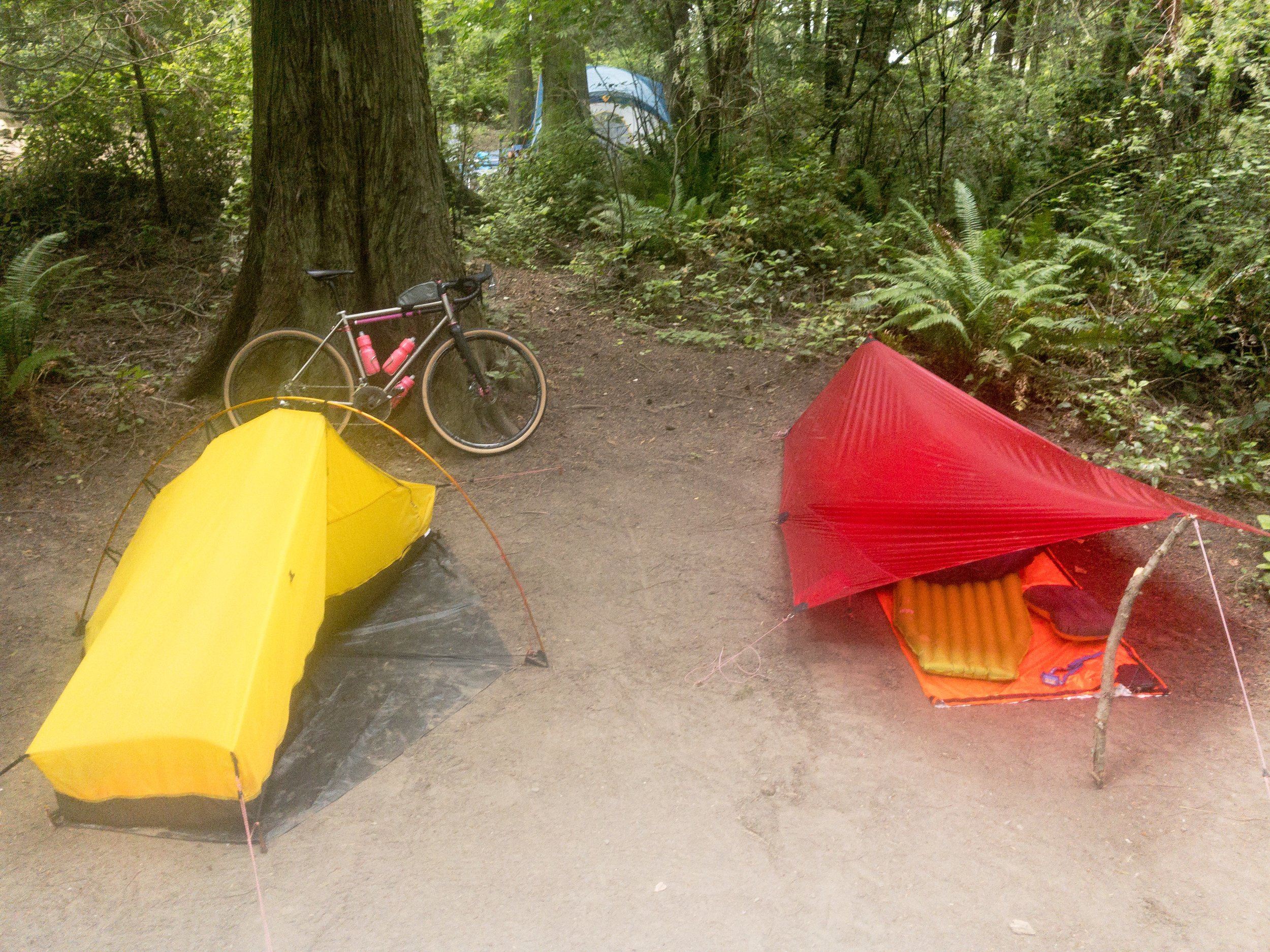 Bike camping with my adventure partner in crime, Bryan Petersen. We left on a Friday after work and rode from Seattle north to Fort Flagler State Park on Marrowstone Island. This adventure is remembered not only by the good company, but by the surprise that was Fort Flagler, ice cream (many ice creams), and bonking hard and being saved by sandwiches (both to and from).
Earlier this year, I won an experience where I'd get to do a cupping and choose a blend that would then be roasted and packed with a label I'd get to design. Talk about a dream come true! It was an amazing experience.
In 2017, I got to meet not one, but TWO icons I admire. Simon Mottram (left, top photo), Founder and CEO of Rapha, was in town for a couple of days and I was lucky to not only ride with him but spend a bit of time chatting with him. Rapha changed the cycling game for me years ago and it was fun hearing Simon talk about building a brand and getting to do something he loved each and every day. I love stories where passion and drive come together to create something of value.
I also got to meet Brunello Cucinelli (center, bottom picture), the founder of his namesake fashion house, Brunello Cucinelli. I was able to hear Cucinelli, an outspoken humanitarian, speak about empathy and compassion and our shared responsibility to leave this planet a better place for future generations by giving back and helping our communities. This vision is evident in his company. In interviews, he talks about his business practices and how he has rebuilt the community where Cucinelli is headquartered.
Julien Baker's second album, Turn out the Lights, is a stunner of an album. There's something about her music that pierces my soul and makes me feel vulnerable. It's a bit uncomfortable, but I love it at the same time. She makes me feel. Turn out the lights is a stunner of an album.
The easy choice here would have been the iPhone X. While it is a beautiful device packed with useful features like FaceID and it IS the best iPhone to date, the Apple Watch Series 3 is my favorite piece of technology released in 2017. The addition of cellular connectivity has proven to be a game changer. I leave my phone at home on bike rides and ride confident I can still respond to texts and place/receive phone calls when/if I need to. A world without smartphones is a world I welcome and this is the first real device that gives us a taste of what that might be like.